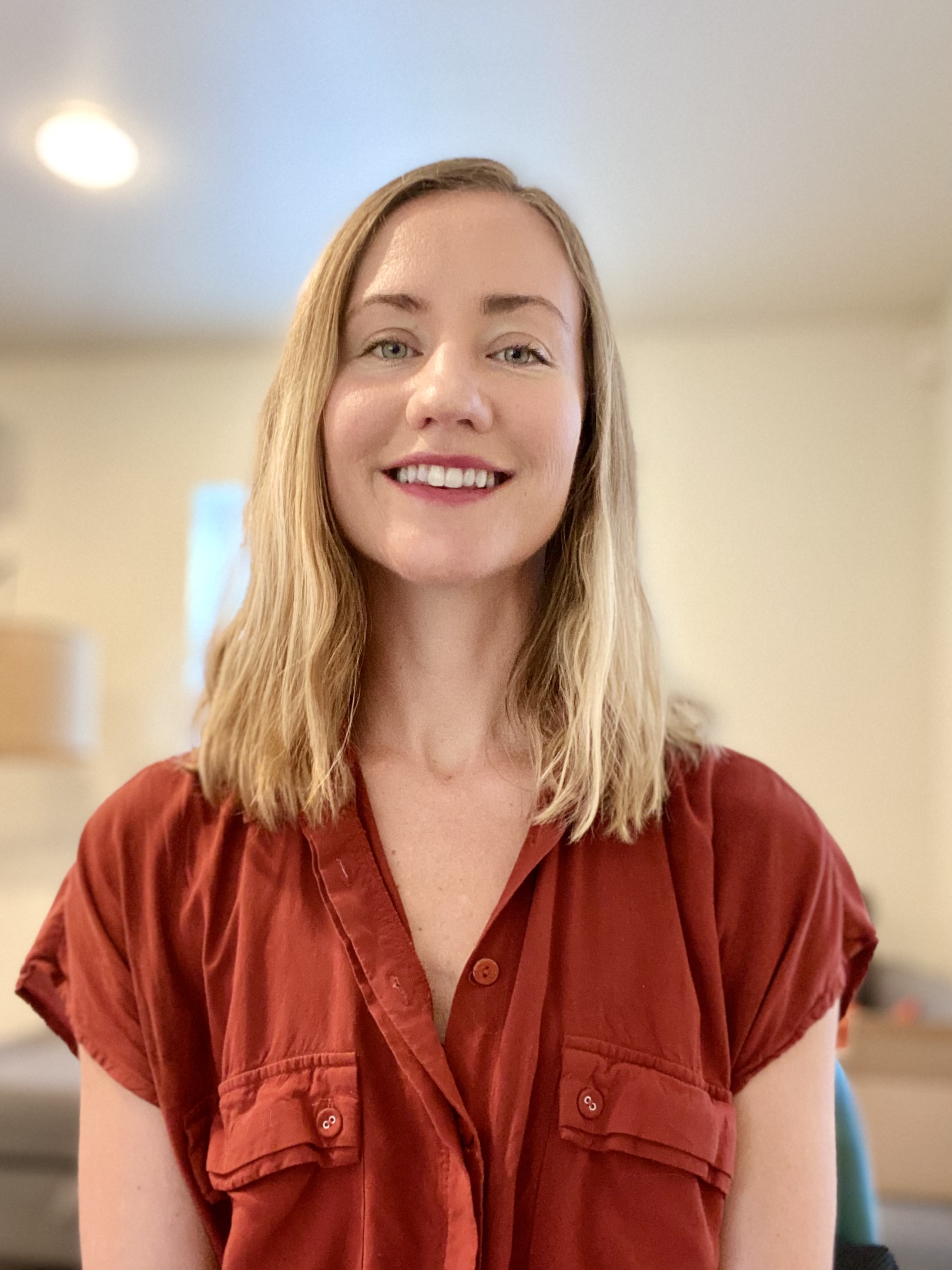 Danielle Jett
Product Design
Earnings Q&A Analyzer
Driving Meaningful Value for IR Analysts
The Problem
Earnings presentations are some of the most important events for Public Companies, and preparing for earnings is a primary (and high pressure) task for the users of our platform.
Problems We Identified
Low usage of earnings-related features during earnings season

Early client feedback uncovered people had a hard time finding relevant earnings content

We have high content costs related to earnings content, but were not seeing the ROI in customer value.
The Goal
Can we better understand what our clients need during earnings season so we can unlock value and deliver the best tools on the market for preparing for earnings?
My Role
Client Research, UX Design, Prototyping, User Testing, Hi-Fidelity Design, Developer Hand off (design specifications, scoping and grooming of stories)

Client Interviews
We recruited 8 clients for discovery research to dig into what our customers are doing today around earnings and uncover pain points and opportunities. These interviews helped us identify a key opportunity around preparing for earnings Q&A.
Key Findings:
IR teams have specific quarterly tasks related to earnings that require our data and content

Clients had low awareness of the earnings features and content in the platform

Pre-earnings workflow of question preparation as an key opportunity--a high-pressure time consuming task where client's always feel they should be doing more.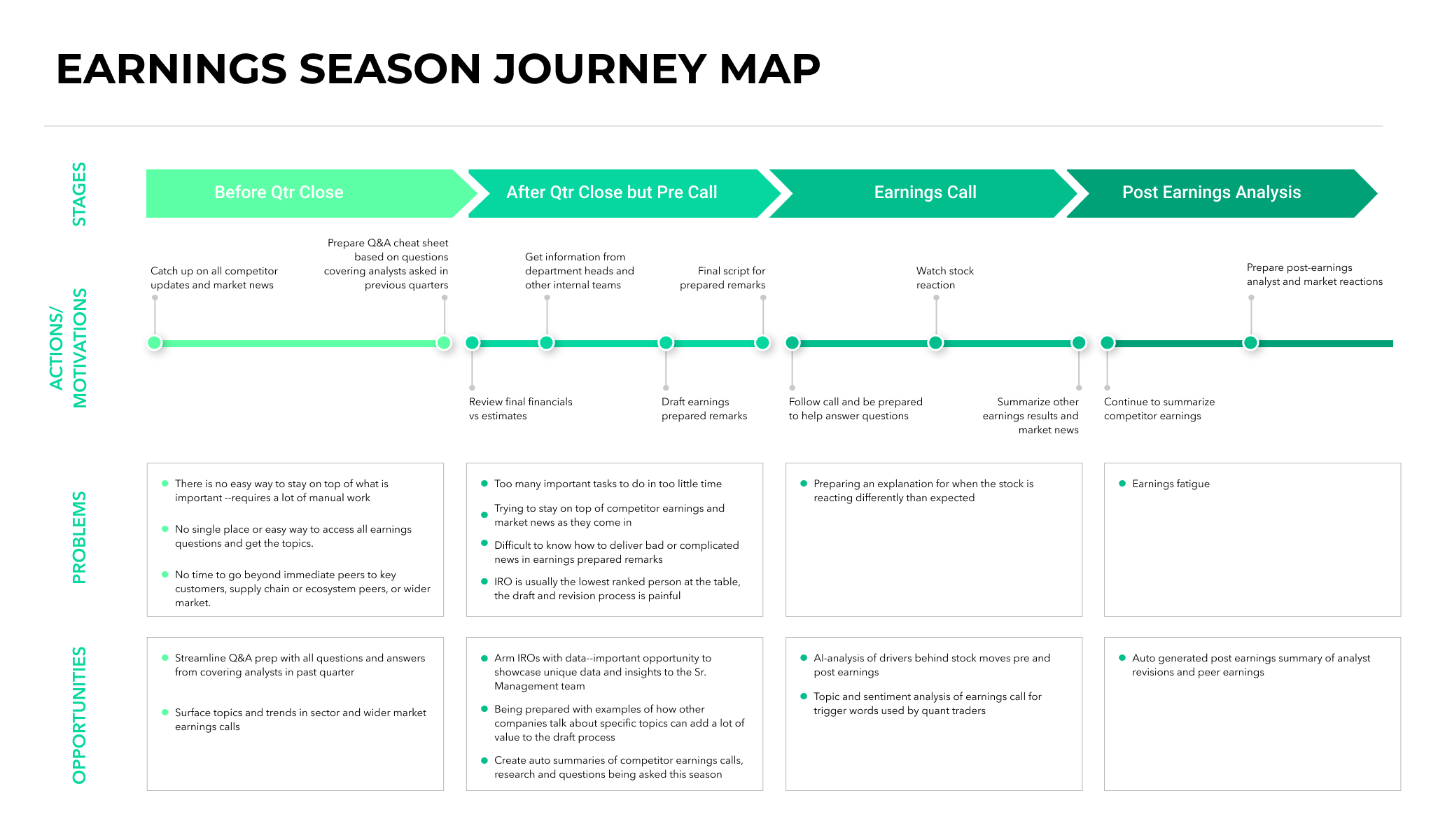 Proof of Value Experiment
To test the client value of our Earnings Q&A Preparation content, we added a quick download button to a personalized pre-earnings email that we recently launched to all users. The data we received from this experiment helped validate this project for the platform roadmap.
High click-through rate to content from email

Client Requests to add this content to the platform

Sales and Client Success teams use this feature to engage with clients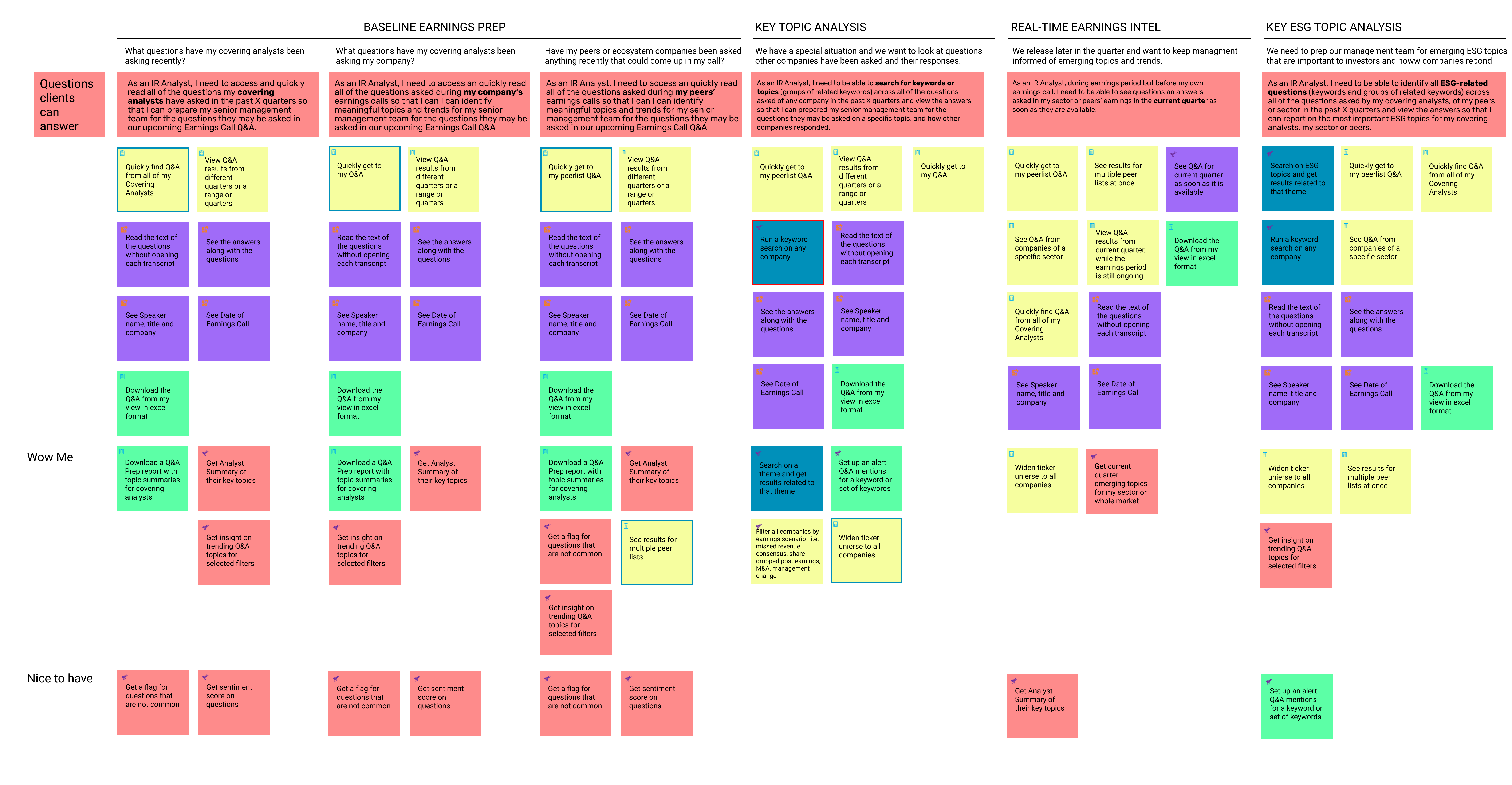 Feature Evaluation
We evaluated feature ideas based on core use cases, and unique value proposition.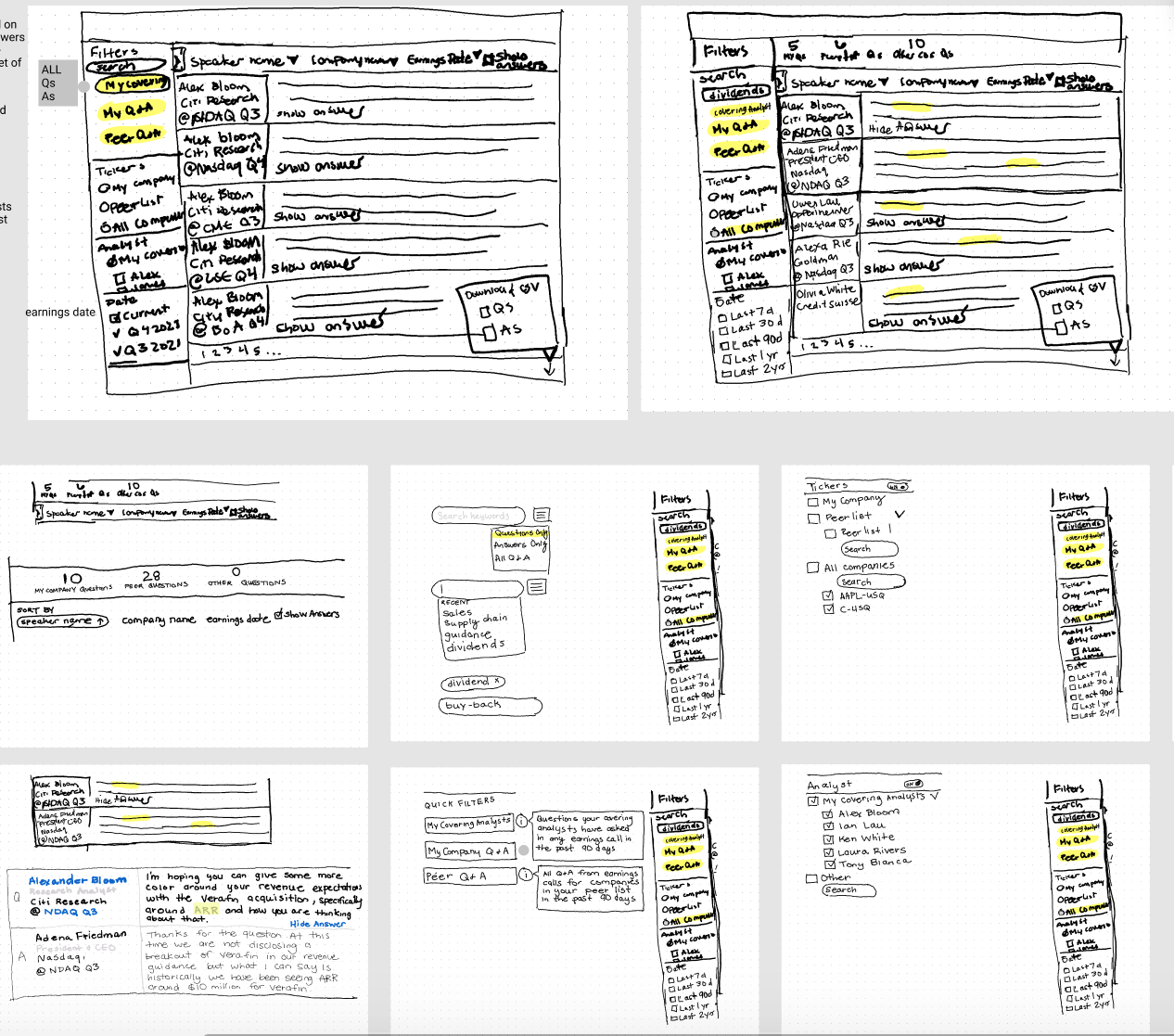 Design Studio Sketches
Before jumping into wireframes, I ran a design studio with the key stakeholders and other design team members. The format is quick sketching sessions and then voting.
Ideas for quickly getting to key views of the content identified in research

Ideas for how to display the information so it is scanable with a high data density

Ideas for filter interactions

Ideas for insights and trends on top of the content

Ideas for interaction patterns and key user expectations for the feature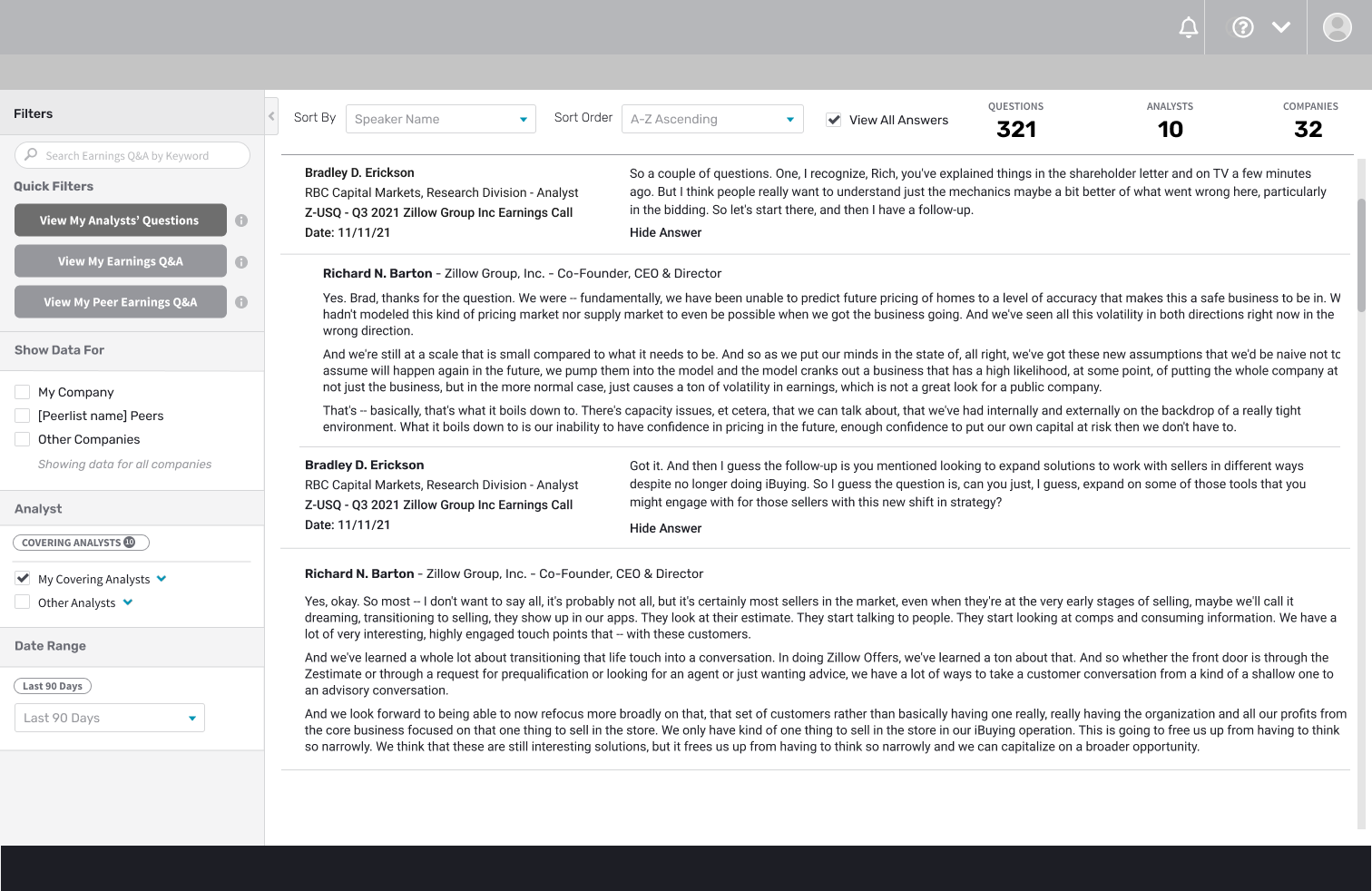 Wireframes
Because the scan-ability of the content was an important criteria, I created mid-fidelity wireframes for phase 1 to prototype some real data and validate our concepts.
Facilitate feasibility discussions with the engineering team

Visual reference for internal feedback sessions

Validation and alignment with stakeholders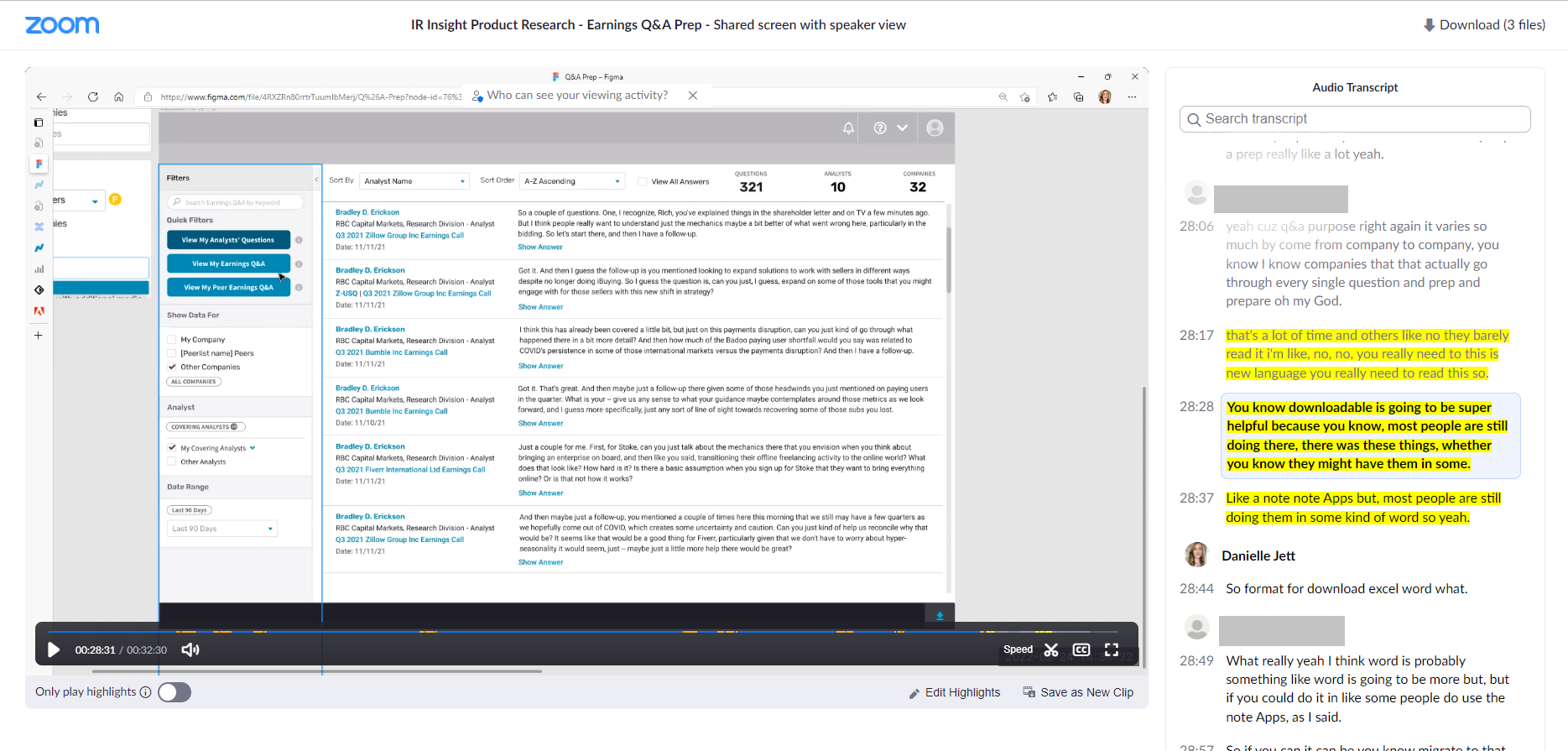 User Testing Round 1
We tested the low-fidelity wireframes with clients and internally for early validation of our direction and to gauge the value clients find in the feature.
Pivot Points
Mixed reaction to the quick filter grouping

Support for adding additional download formats

Support for ability to select specific analysts

Confirmation that this feature is useful for more than just earnings transcripts
User Testing
Currently testing across clients as 1x1 monitored usability test via zoom.
Early Results
Emphasis on the analyst name may be the wrong hierarchy - considering using company or nesting the results in a pivot style.

Quick filters may not be capturing the way that all companies think about slicing the universe - considering removing them if they are not adding value.

Confirmation of the value in expanding search with custom topic detection capabilities and offering a quick summary of the key insights.