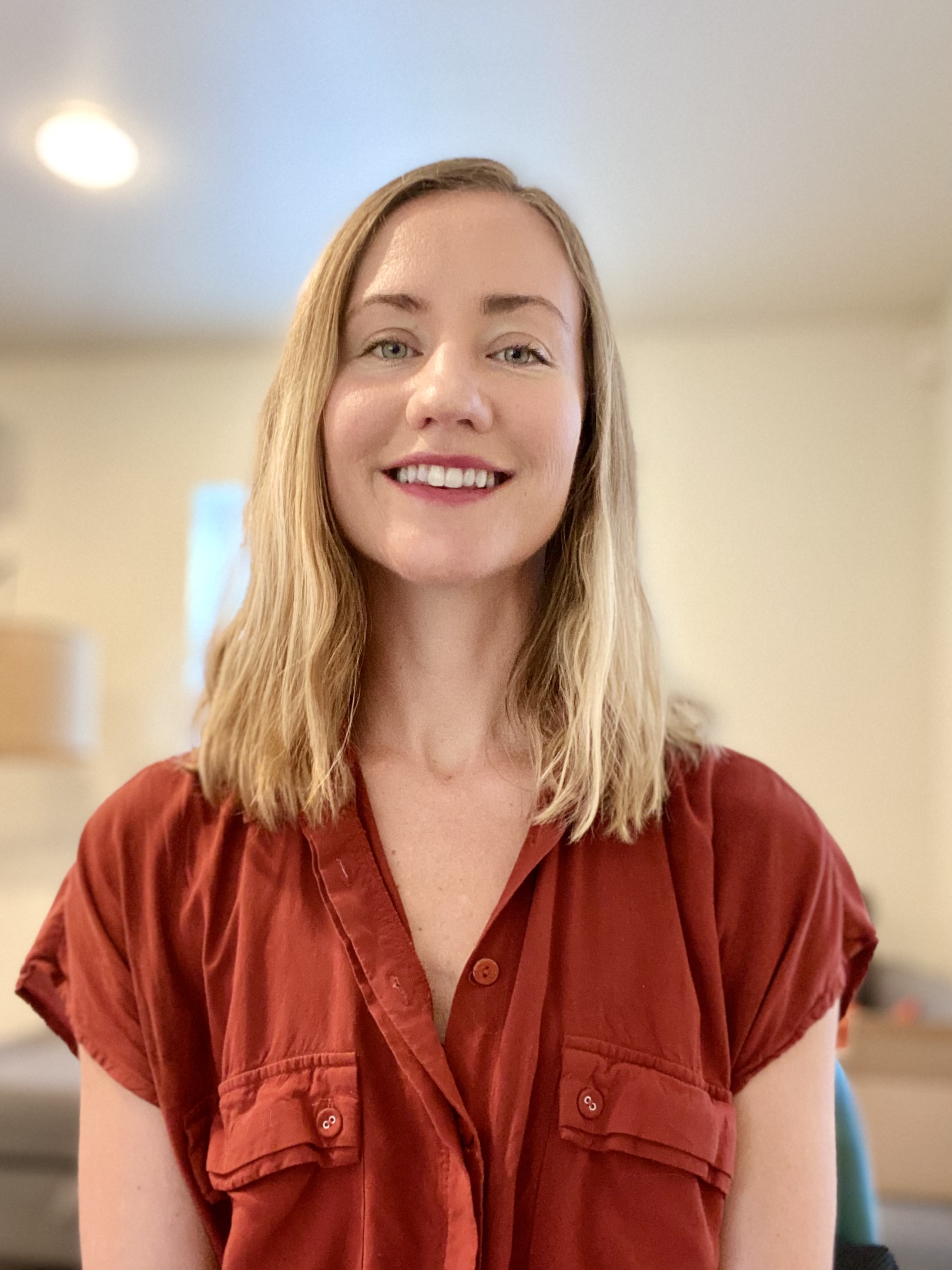 Danielle Jett
Product Design
Trading Insights
A tool to optimize trade execution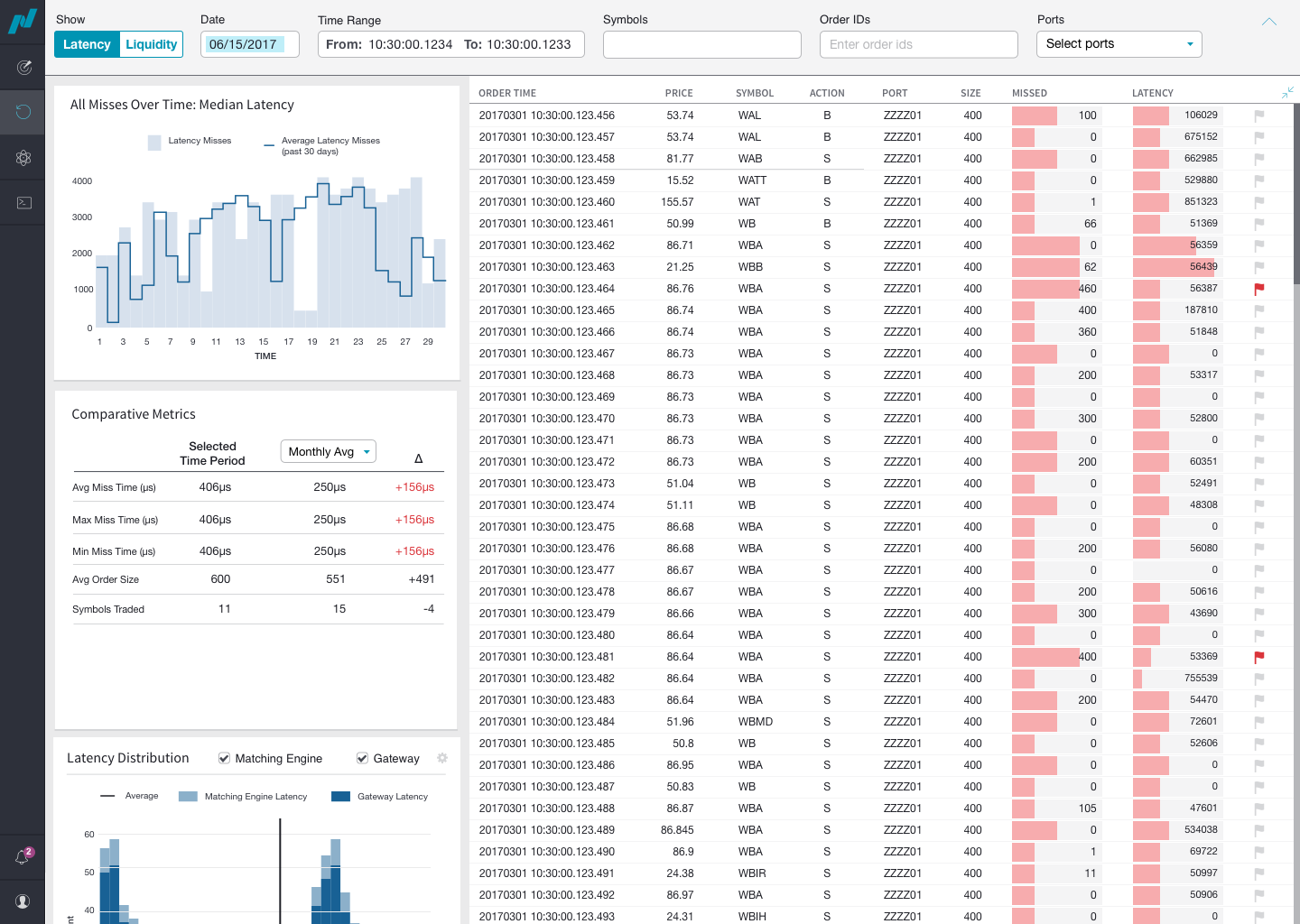 The Problem
Nasdaq's Machine Learning team created a data set on top of market data that compared trade execution metrics for each firm to those of other market participants, While the data provided important information for firms looking to monitor and optimize their trade execution, without an interface to visualize and action the data, potential clients were not getting the full value from the information.
We created Trading Insights to help companies leverage the data to improve their trade execution operations.
My Role
Client Research, UX design, Data Visualization Design, Prototyping
Discovery Phase
This project was a deep dive into the inner workings of trade execution, so the discovery phase included many different types of research just to get an understanding of the content.
Many sessions with the machine learning and market technology teams

Spending time analyzing and viewing real data examples

Client interviews to understand where clients saw value in the data and how they wanted to integrate it into their current trading systems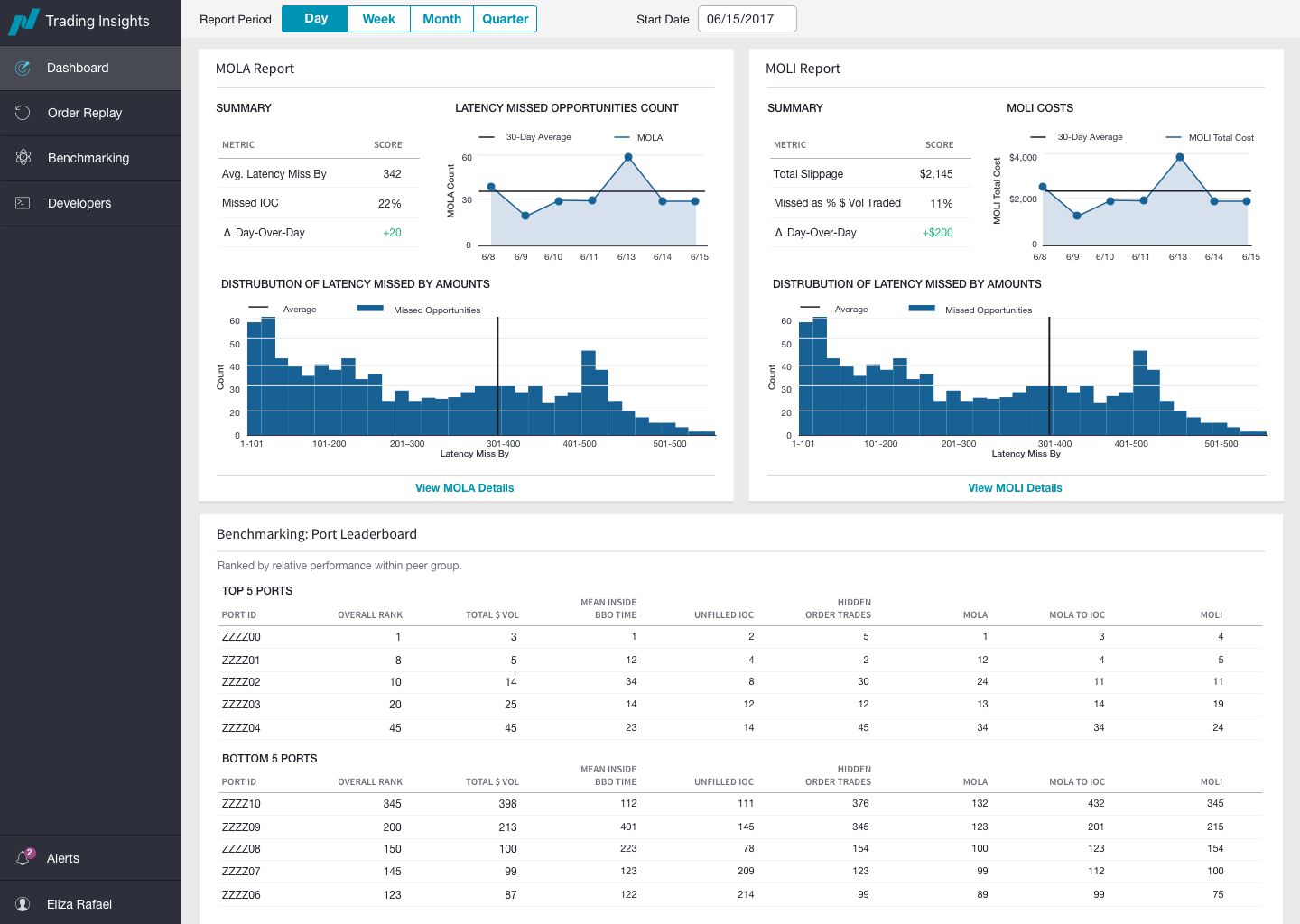 Trading Summary View
We designed a landing page that served as both a quick summary report and anomaly screen on key performance metrics, trade latency and trade liquidity.
The Challenge
Create a visual, sharable summary of the trades

Introduce new data in the context of recognized performance metrics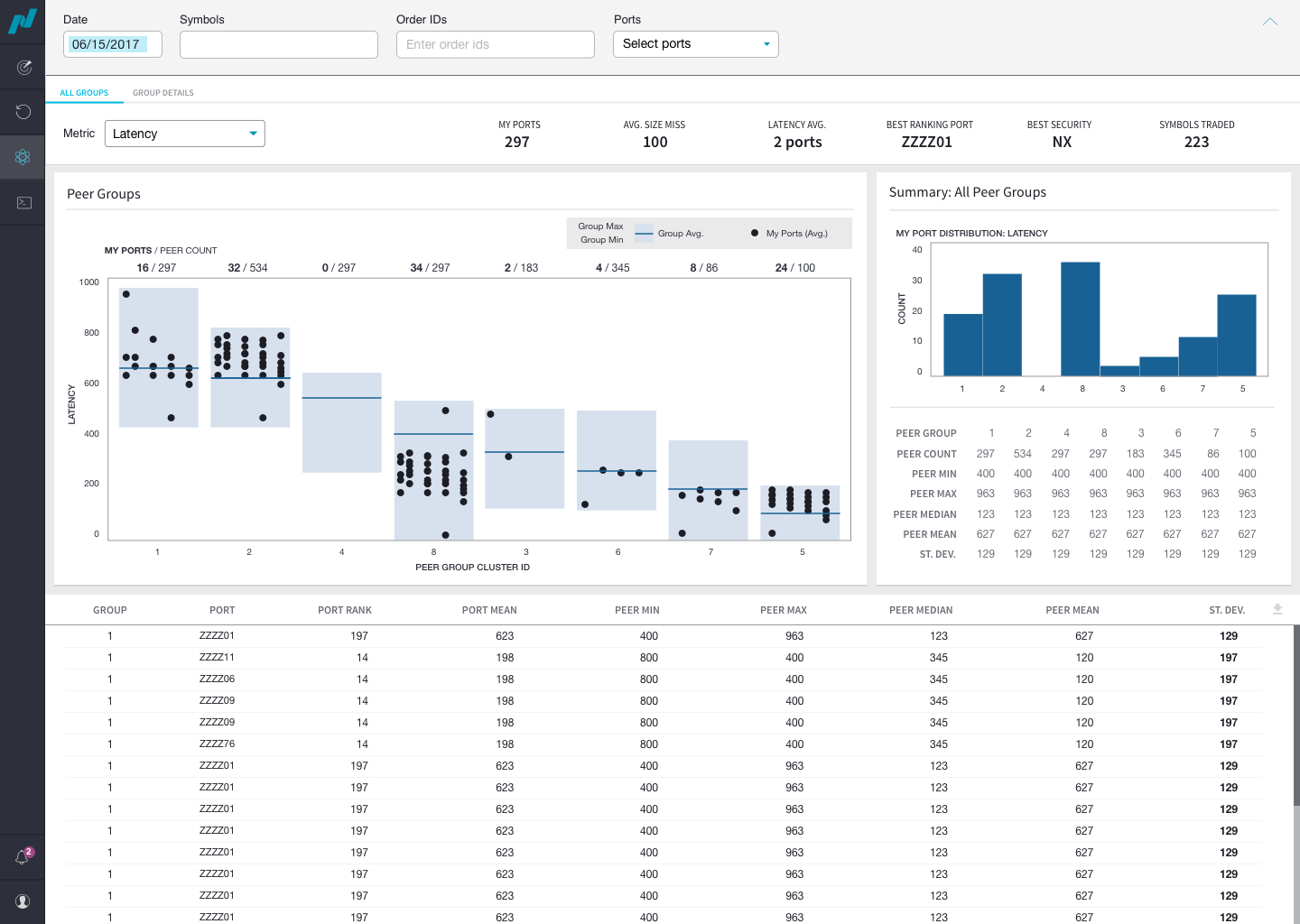 Port Benchmarking Views
Part of Nasdaq's unique value proposition with this tool was the ability to view the performance of individual trade execution ports through the lens of all ports on the market. The team identified cohorts base on performance metrics and other key execution indicators.
The Design Challenge
Visualize all ports in a single view that emphasizes the relative performance on execution metrics

Communicate information about each cohort without revealing specific information of the underlying ports that belong to other market participants.

Provide a detail view of individual ports with their relative performance within the cohort.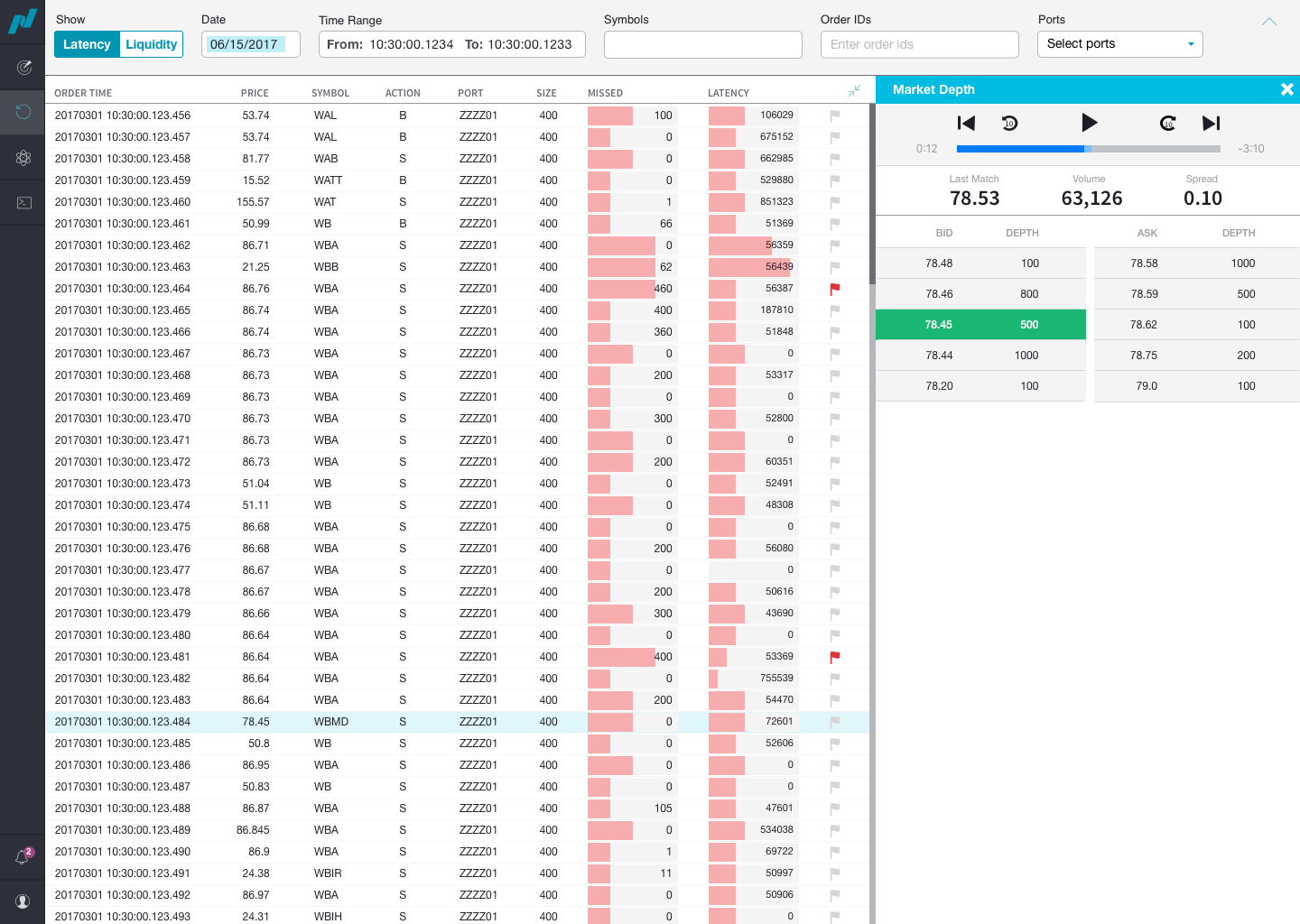 Order Replay View
We designed for the investigative workflow of identifying performance issues with individual trades.
The Design Challenge
Provide high data density based on preferences identified in our key users

Visualize degree of trade execution metrics along with trade information

Allow the user to replay the market conditions at the time of the trade